ABOUT FESTIVAL
Filmteractive Festival
is a unique combination of art, film and new technologies. It is a part devoted to digital creators and artists. The aim of the Filmteractive Festival is to promote digital art. We want to show this relatively new branch of art to the public, explain them what it is and maybe encourage them to create their own unique projects. Therefore, the participation in the Festival is free of charge.
Our focus in 2014
was the distribution of A/V works in the Internet era. Participation in Festival is FREE OF CHARGE.
Register here
for the Festival.
WE ARE HERE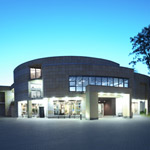 National Film School in Lodz
The most prestigious Film School in Europe is situated at Targowa Strett 61/63 in Lodz. This is the centre of film life in Lodz and in Poland. Among the best known graduates are: Andrzej Wajda and Roman Polanski.
Stay tuned
Leave your email address to receive newsletters.