ABOUT MARKET


Filmteractive Market is the first interactive and crossmedia content marketplace in Central and Eastern Europe. It is a place for content creators who want to present their innovative film, crossmedia or digital content projects, and for those who want to sell or buy a project or technological solution.

In 2014 the call for project was launched on March 15th. The projects submitted to Filmteractive Market are innovative audiovisual works: interactive video, crossmedia, transmedia, branded content and digital content. We have received 72 submissions. Number of submissions from NDPC countries: Estonia 4, Germany 7, Lithuania 2, Poland 8, Netherlands 4, Denmark 1, Russia 1, Sweden 1, Norway 1.

All the projects were evaluated by the international expert panel. The best 8 selected interactive films, crossmedia and digital content projects were pitched live in front of Filmteractive Market audience: international professionals, content buyers, and European broadcasters.

In 2013 Filmteractive Market had its first edition. We got 32 applications from different European countries and Canada. All the projects were evaluated by the international expert panel. The winner – NULLPUNKT from Estonia, got a HBO prize worth 10.000 PLN. Additionally all the finalists got priceless advice and lots of courage from the top experts from the media, film and advertising industry.

Next Call for projects – MARCH 2015!

We are looking for:

interactive video
crossmedia/transmedia
branded content
digital content


We are interested in projects in all the phases of production (planning, creating, post – production, finished projects).
If you are the author of the interesting audiovisual project and want to present it, submit your
application
If you are a content buyer, contact agata.lepianka@filmteractive.eu
WE ARE HERE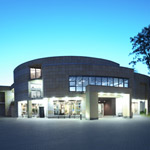 National Film School in Lodz
The most prestigious Film School in Europe is situated at Targowa Strett 61/63 in Lodz. This is the centre of film life in Lodz and in Poland. Among the best known graduates are: Andrzej Wajda and Roman Polanski.
Stay tuned
Leave your email address to receive newsletters.