ABOUT US
Unique combination of business & art, film & new technologies, youthful energy & experience
Filmteractive
is a two-day international event devoted to innovative audiovisual content: interactive film, web video, branded & digital content, and crossmedia / transmedia.
The event is a 3-in-1 formula – the combination of business Conference (Filmteractive Conference), content Market (Filmteractive Market), and digital art Festival (Filmteractive Festival). The event is organised by the Lodz Media Klaster Foundation, the Polish National School of Film, Television and Theatre in Lodz, and the Digital One interactive agency.
The aim of Filmteractive
is to create an ideal meeting place, where filmmakers, interactive directors, artists, marketers, and potential investors may network and exchange their professional know-how.
The four editions of Filmteractive attracted hundreds of guests and dozens of acknowledged speakers from all over the world. The 2014 edition featured 350 guests from different European countries. Not only did we welcome representatives of significant brands, but also producers, creators and various media.
Our target group includes:
Film branch – creators and producers pitching their projects, and looking for potential investors and partners
Interactive branch – digital companies, portals and VOD services interested in purchasing the pitched projects; content creators, interactive directors and other new media producers
Investors willing to finance presented A/V projects
Media looking for new content
Advertising branch interested in using video art
Marketers interested in expanding their business contacts.
The main goal of Filmteractive is to provide business networking between the artists and the business sector from around Europe. The secondary goal is to educate on the possibilities of digital content, interactive video and crossmedia formats.
Organisers:
Fundacja Media Klaster
www.mediaklaster.pl
IAB Polska
iab.org.pl
Łódź Film School
www.filmschool.lodz.pl
Digital One
www.digitalone.pl
WE ARE HERE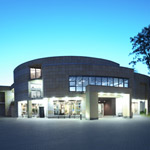 National Film School in Lodz
The most prestigious Film School in Europe is situated at Targowa Strett 61/63 in Lodz. This is the centre of film life in Lodz and in Poland. Among the best known graduates are: Andrzej Wajda and Roman Polanski.
Stay tuned
Leave your email address to receive newsletters.